Minibeasts Close Encounter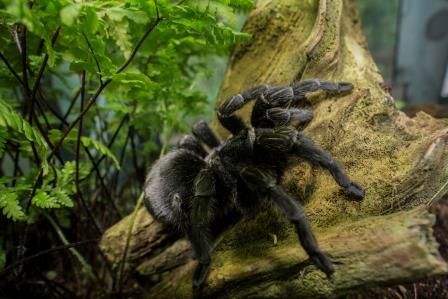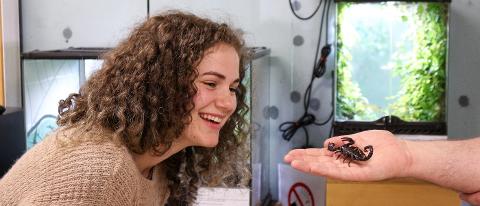 Duration: 30 Minutes (approx.)
Location: Wellington, (None)
Product code: Minibeasts 11280
Invisibility! Regeneration! Super strength and size! Invertebrates are the superheroes of the animal world. You can learn all about their amazing powers at our Minibeasts Close Encounter Experience at Wellington Zoo.

Go behind the scenes at our invertebrate house, Hero HQ and an expert Zoo Keeper will introduce you to some of nature's most marvellous, and misunderstood
animals. As you are guided around the space you'll be able to see amazing creatures up close including Scorpions, Goliath Stick Insects and Millipedes. Have you ever wondered how we do a health check on a Tarantula?
Hear all about their super powers and why they're so important to their ecosystem. You'll never look at these important little guys the same way again!
You'll also learn how your Close Encounter Experience helps Wellington Zoo in our conservation work. 10% of proceeds from all animal experiences help us save wildlife and wild places through projects supported by the Wellington Zoo Conservation Fund.
"I couldn't rate this highly enough. The zoo keeper knows his stuff and is super passionate about what he does which only elevated the experience for me. Really informative and definitely worth while." - James

"It was an amazing experience and one I would highly recommend to any lover of creatures that have more than 4 legs. [Dave's] knowledge and passion for the animals in your care made the experience extremely enjoyable, fascinating, and educational." - Cat
Minibeasts Close Encounter Experience Details:
Age: 6 years old and up. Anyone under 14 will need to be accompanied by a paying and participating adult on the experience.
Time: 2:45pm Friday, Saturdays and Sundays. Participants must arrive at least 30 minutes ahead of their scheduled encounter time.
Cost: $99.00 per person, including free Zoo entry.
10% discount for all Zoo Crew Members.
Participants: Maximum of 4 people per experience. Enclosed footwear must be worn.
Duration: 30 minutes.
Please note our Hero HQ facility is designed to provide the best environment for the animals, which means it is quite hot and humid. Please make sure you will be able to enjoy the experience in these conditions - contact us if you have any concerns. There will be space to leave bags and coats before entering the facility.
Please note that participants will not have physical contact with any live animals on this experience.
Bookings: Please book in advance. If you want to give someone else this amazing experience, you can buy a Gift Card which the lucky recipient can redeem when they make their booking.

Terms and Conditions: Full terms and conditions for this experience are available on the booking page.