Capybara Close Encounter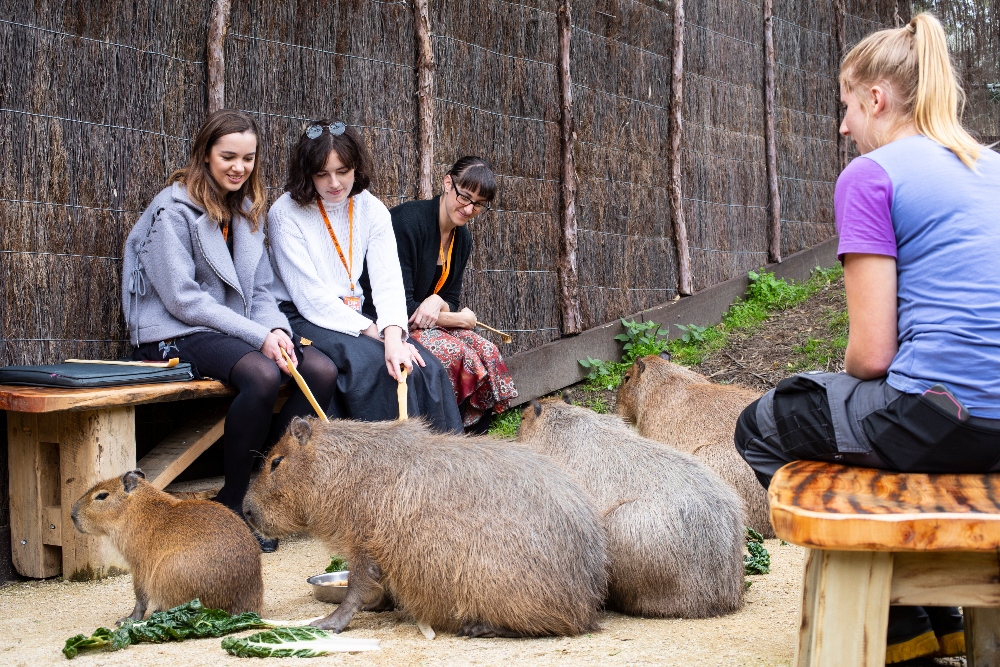 Duration: 30 Minutes (approx.)
Product code: Capybara (11007)
The Capybara is the world's largest rodent and they share similar features with rats, mice and guinea pigs, such as their ever-growing front teeth. One of their notable features is their partially webbed feet making the Capybara excellent swimmers!
Capybaras are herbivores, eating mostly grass, water plants and vegetables, as well as fruit and tree bark. They are also a herd species, which means they are a very social animal.
A Close Encounter at Wellington Zoo is more than just meeting an amazing animal close-up. You're joined by a Zoo Keeper who works with the animals you are meeting. They will introduce you to your encounter animals and answer any of your questions about them, and about Capybaras in the wild and why they're important. They'll also happily take a photo of you inside the Capybara Habitat, so don't forget your camera!
10% from every Capybara Close Encounter goes directly to the Wellington Zoo Conservation Fund – so when you book, you're personally helping us to save animals in the wild through projects supported by the Wellington Zoo Conservation Fund.
Capybara Close Encounter details
Age: 6 years old and up. If you're between 6 and 13 years, you'll need to have someone 14 years or over (booked and paid) with you on the Close Encounter.
Time: 1.00pm every day. Participants must arrive at least 30 minutes ahead of their scheduled encounter time.
Cost: $99 per person including Zoo entry.
10% discount for all Zoo Crew members.
Participants: Maximum of 4 people per encounter. Enclosed shoes must be worn.
Duration: 30 minutes
Bookings: Please book in advance. If you want to give someone else this amazing experience, you can buy a Gift Card which the lucky recipient can redeem when they make their booking. If your first choice Close Encounter isn't available, click here to check the availability of our other experiences.

Terms and Conditions: Full terms and conditions for this experience are available on the booking page.